CATIL's Interviewing Techniques Workshop takes your hiring skills to the next level
Based on the methodology behind CATIL's unique competency framework, participants can expect to receive all the knowledge required to start delivering impressive interviews and outstanding recruitment results the minute they get back to the office: –
Learn to ask probing questions and get the answers to validate all your hiring choices
Discover CATIL's powerful formula against which to rate responses and assess candidate fit
Practice interviewing techniques and tools: probing, listening and observing behaviors and non-verbal communication
Avoid leading questions and subjectivity at all stages of interviews
Learn how not to fall into the trap of illegal questions, sticking to equal opportunity and non-discrimination rules
Can do vs Will do?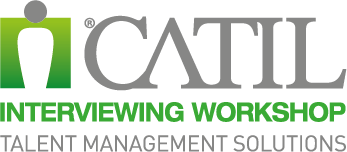 One of the most crucial recruitment lessons taught during the workshop is the importance of being able to ask the questions that help distinguish between candidates' competencies (can do) and their motivations (will do).
Being able to test suitability for a pre-specified job role based on these two different factors is likely to lead to more success in selecting the right person, in turn reducing costly staff turnover and boosting long term employee development.
Attendees will learn how to conduct structured targeted interviews that deliver objective and qualitative assessment of candidates' competencies leading to faster, more accurate interviewing time after time.
Become a top interviewer in the eyes of your candidates
Having researched your company online, the interview is often the first and most important opportunity an in-demand candidate will get to form an opinion of your company.
So if you want to lure top talent away from the grasp of your competitors and build your attractiveness as an employer, you better make sure your interviewing teams are up to the job. This means giving them the best opportunity to prepare for and deliver high quality interviews consistently over time.
Certification at the course involves a combination of lively classroom based exercises and practical case study examples aimed at helping line and HR hiring managers ask better, more targeted questions at the interview.
One day (line and HR) or two day (HR specific) course options available
Choose between customized in-house sessions at your organization or open inter-company sessions at a range of locations across the globe
Attend workshops in your mother tongue. English, Dutch, French, German, Portuguese and Russian currently available – new language options in the pipeline
Small class groups (maximum 8 participants) ensures all participants receive tailored coaching and individual attention
Workshop materials provided outline all of CATIL's methodologies
Download the CATIL Interviewing Fact Sheet in English
Download the CATIL Interviewing Fact Sheet in French